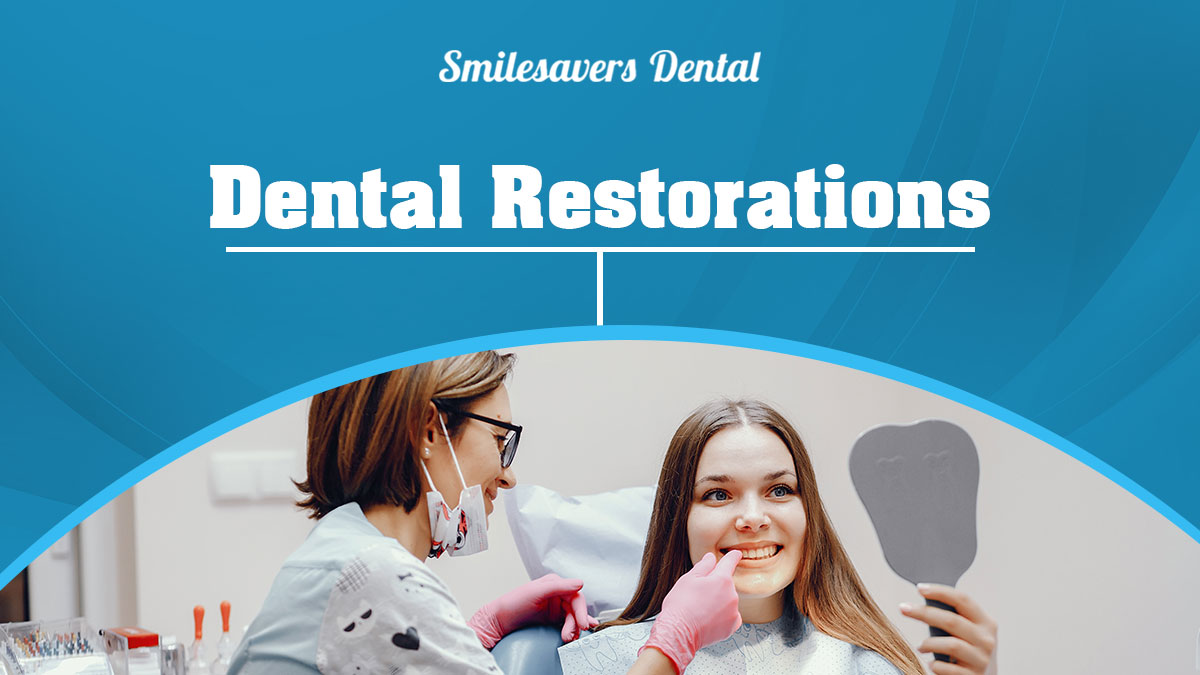 Restorations are the numerous ways in which a dentist may recover or restore lost teeth or missing elements of your dental structure, as well as components that need to be removed to avoid deterioration that could cause you discomfort in the future.

If you have a tooth that needs to be fixed or replaced or chronic toothaches or left untreated, tooth decay and damage can lead to long-term health issues. Smilesavers Dental provides dental restoration services to repair and restore your teeth to their original state.

Types Of Dental Restoration
Dentist at Smilesavers Dental provide various restorative treatment options with utmost care like,
1. Crowns
If a tooth gets severely decayed or injured, it may become infected, posing a risk of serious illness. If a crown doesn't cover the tooth, it's a danger of fracture or infection, which might spread the pulp and cause the tooth to fall out. To avoid this, Smile Savers Dental dentist installs a porcelain crown over the broken tooth to restore full function while also protecting it from additional damage. Our crowns are made to resemble natural teeth in appearance and feel.
2. Cerec
CEREC restorations are ceramic solid crowns, inlays, Onlays, and veneers created using our CEREC computer-assisted technology, which is used in our practice. Smilesavers Dental can take digital imprints of your mouth (rather than using unpleasant impression trays) and create a repair in the same session using CEREC. CEREC restorations are custom-made and color-matched to your smile.
3. Implants
Implants are tiny metal anchoring posts put into the bone socket where teeth are missing. They are generally composed of titanium or a titanium alloy. Once the implant is inserted into the socket ,a healing period is necessary for the implant to fuse with the bone and once the implant is osseointegrated an abutment is attached to the implant which will act as a connector between the implant and the crown. The crown is then placed on top of it. We provide the best implant treatment.
4. Bridges
Dental bridges can replace a single lost tooth or a row of missing teeth. They give sturdy replacement teeth attached to the normal teeth on either side of the lost tooth or teeth. When you have a bridge, we'll put crowns on the teeth next to the space and then use a bridge to connect one or more artificial teeth to the crowns.
Problems Occur During Dental Restoration
Tooth structures can be lost owing to disease, degradation of a previously installed restoration, or tooth fracture. Those issues can be addressed with dental restorations.

Before Dental Restoration
The treatments that precede a dental repair vary depending on restoration. Brush and floss your teeth before any operation to keep them as clean as possible. During normal cleaning, our dentist will detect cavities and make an appointment to place fillings. During a preliminary appointment, We will measure your mouth and create models of your jaw.

After Dental Restoration
We propose that you adjust your food and drinking choices for the next 24 hours after a dental restoration:
Take soft meals
Take cold meals
Warm soup is a good option if you can withstand the heat.

After any operation, you must clean and floss your teeth daily. To avoid dislodging a temporary repair, we urge that you only floss in one direction and draw the floss through.

Benefits Of Dental Restoration
Dental restorations improve your chewing ability, help you talk more clearly, and improve your smile. They aid in the preservation of your teeth.

Risk Behind Dental Restoration
After a dental restoration operation, the most prevalent risk is sensitivity or general pain. You can acquire an infection or have an adverse response to the frequently used metals.

Dental restorations-related risk is very limited; however, crowns, if not maintained properly, for example, can loosen, chip, or even can fall out (though permanent crowns do not fall out or loosen). Root canals or tooth removals may be only required if you have extensive cavities or wait too long to get them fixed. If you have an issue with your teeth, come to us immediately.

Recovery Time
After a dental restoration, you may feel uncomfortable or only be able to consume soft foods for up to 24 hours. For example, it may take a little longer to adjust to your dentures, but healing is generally fast.

Care Of Dental Restoration
Brushing and caring for your fake teeth is the same as caring for your natural teeth. You'll need to remove your dentures, rinse them, and clean them with a gentle toothbrush, for example.
Try to take care of your teeth by brushing them every day and visiting Smilesavers Dental for regular cleanings. Remember to brush your teeth as well as your gums, tongue, cheeks, and roof of your mouth.

To Sum Up
Make an appointment with Smilesavers Dental straight soon if you have an issue with your dental repair, such as a cracked filling or dentures that don't fit properly. Visit us for regular cleanings as well.