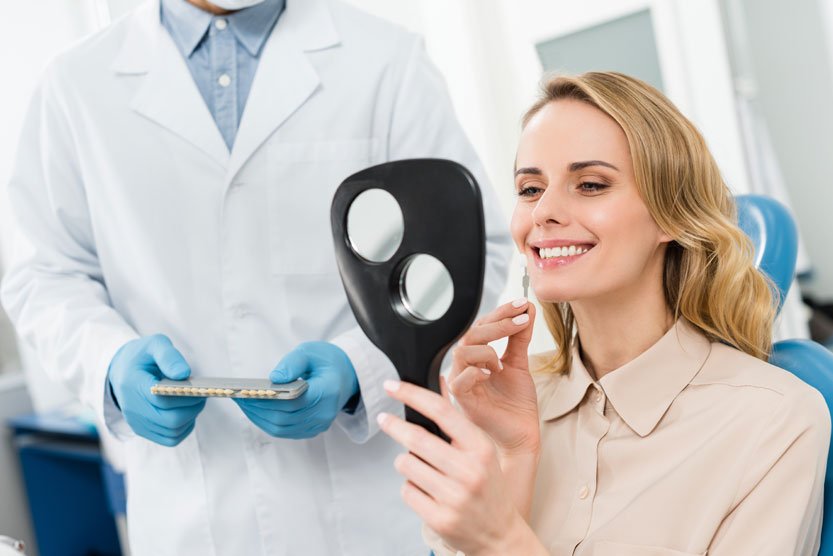 Introduction
The term "cosmetic dentistry" refers to procedures that improve the appearance of a person's teeth. It entails addressing the color, shape, location, and size of the teeth and the overall appearance and alignment of the smile. Veneers, bleaching, bonding, bleaching, crows reshaping, and contouring are examples of these procedures. Its primary goal is to improve a person's look and enhance their smile. Even though cosmetic dentistry is not a well-known dental specialty, it requires years of extensive research and training to perform the various corrective dental methodologies now available to the highest standards.
Inlays and Onlays
Indirect fillings, manufactured by a dental laboratory, are another name for this cosmetic dentistry practice. When a tooth has mild to severe decay or insufficient tooth structure to sustain a filling, these are used. The inlay is placed directly onto the tooth surface if the tooth cusps are not damaged. Now the dentist may use an onlay to cover the tooth's whole surface when the higher amount of crown structure is damaged.
Inlays and Onlays were previously made of gold. Still, nowadays, they are commonly manufactured in a dental laboratory from a composite of porcelain or ceramic material and adhered to the teeth with adhesive dental cement. They maintain teeth by strengthening them, restoring their shape, and preventing future decay and degradation.
Composite Bonding
Composite bonding is the process of restoring decaying, damaged, or discolored teeth with a substance that closely matches the color of dental enamel. Your dentist removes the decay, applies the composite to the tooth's surface, "sculpts" it into the desired form, and cures it with a high-intensity light. This process, also known as "bonding," efficiently covers the damaged tooth and offers the look of a healthy tooth in its place. Patients with dental decay chipped or fractured teeth, or worn-down edges can benefit from bonding, one of the most affordable cosmetic dentistry operations.
Dental Veneers
Dental veneers are custom-made thin shells put over your natural teeth and are often made from medical-grade ceramic. They have a very realistic appearance and can correct various cosmetic issues, including crooked teeth, cracked or damaged enamel, and apparent gaps between teeth. The dentist uses a dental adhesive to adhere the veneer to the front surface of each tooth.
Teeth Whitening
Teeth whitening is known to be the most prevalent cosmetic dental procedures. It may usually be done in one visit to your dentist's practice. Plaque, tartar, and other debris will be removed from each tooth's surface by the dental hygienist, restoring its natural appearance. The teeth can then be bleached to achieve an even lighter tint than the original. Teeth become stained and worn over time due to food, alcohol, medication, and personal behaviors like smoking. Whitening is a technique that coatings the teeth and can be done in the dentist's office or at home. Patients can also obtain the same effect in one to two weeks by using a home bleaching kit. This product whitens teeth by more than three shades in two weeks, with optimal results in four weeks.
Implants
Dental implants are used to replace teeth that have been lost or damaged. A small titanium screw is inserted into the jaw at the site of the lost tooth, which acts as a support for a crown. These implants are nearly indistinguishable from the natural teeth around them. The implant is firmly locked into place once the bone and supporting tissue fuse to it. To clear plaque and food debris from the area, patients must exercise meticulous oral hygiene during the implant placement and after the treatment is completed.
Choosing the Right Cosmetic Dentist
You must exercise caution when selecting a "cosmetic dentist." Identifying the reality that you want or need aesthetic dental changes may be the first step. The next step is to find the correct dentist and ask the appropriate questions. Most dentists who have received specialized training in this field will gladly share their experiences and show you photos of their cases. The abilities of dental health professionals can and do vary. A cosmetic dentistry makeover may demand the expertise, talents, and combined experience of a dental "team" for a more dramatic smile adjustment.
Conclusion
To address a patient's specific concerns, a variety of treatments are available. Improving a patient's smile and overall dental aesthetics and the correction of discoloration is frequently possible. If you're thinking about cosmetic dentistry, it's critical to identify a cosmetic dentist specializing in the speciality you want. They'll provide you with more information about which procedures are ideal for you.